Who hasn`t spent some time walking through a cemetery, either because we are looking for someone`s final resting place, or because we are missing someone who has gone before us to heaven? While the gravestone itself is a tangible link to the deceased person, the cemetery might feel desolate, cold or even gloomy. Often it is a grassy field marred with stones that look as if they have pushed them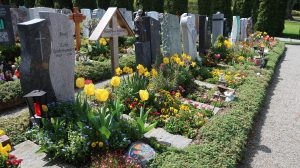 selves up through the topsoil.
Imagine my surprise when, as a teenager, I made my first trip to Europe and encountered a small village cemetery. It wasn`t out in the middle of nowhere, away from any sign of life … no … it was nestled next to a chapel, surrounded by protective stone walls, midst in the town. Each headstone had a garden plot attached to it, which the family and friends could plant things in and leave messages or little mementoes. Most people in the village obviously took pride in creating a beautiful space there. The gravesites were joyful, colorful, and best of all, they showed how alive the memories of these people were. There was hope that one day they would be together again. There was evidence that the deceased were still a tangible part of their families. And there was an atmosphere of being cherished that I have yet to see here at home.
European cemeteries are beautifully manicured with sculpted gardens, which create a very moving, emotionally warm and uplifting experience. The effort and expense of these lush memorials help mirror our very real faith and make a connection between people past and present, allowing us to more easily look with joy towards eternity.
Fortunately, we don`t need to move overseas to create a beautiful environment for our loved ones who have passed. Creating a virtual space online on Christian Memorials allows you to create a beautiful virtual environment suitable for honoring him or her in a special way, thus helping the healing process and showing others the world over, just how cherished the person is. I`m learning that there are no physical limitations in an online memorial!